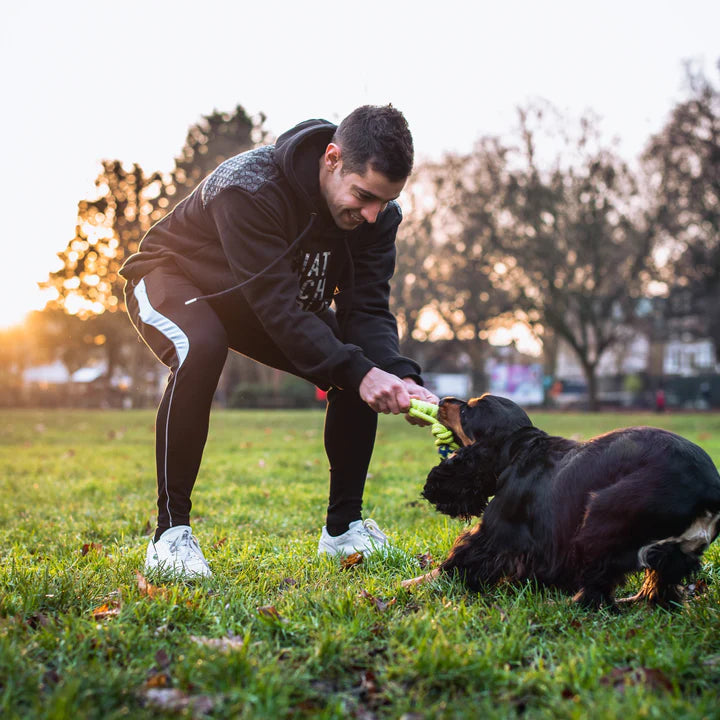 Posted on
---
---
The Powerlifters Dog Toy - Solid, Durable Dog Toys for the Strength Athlete 
If you are a dog lover, your paw-friend needs to be as trained as you. Playing with your dog is the best way to build strong connections and have a great time with your best friend. Your pup needs to be entertained physically and mentally. Our solid dog toys are durable and can be used as a training tool or just a kong for your dog!
Our dog toys are made from natural rubber, which is non-toxic and very durable. The string is made from durable nylon rope with end coverings which make it strong enough to endure from the chewers. 
Pawsitive Vibes Only 🐾

- A7 Ball. Hard, durable and solid dog toy that can even be used as a chew toy/filled with peanut butter to keep your dog entertained! Just like a kong! Made from natural rubber.

- A7 Loopo. A single handle rope attached to the ball. This solid dog toy is built for close play and a good old fashioned ruff and tumble!

- A7 Circle 8. Double handled rope attached to the ball and similar to the loopo but built as a durable dog toy for bigger dogs with even more strength. The CIRCLE 8 can be used for rowing with your pup by grabbing the rope on both ends and pulling in a rowing motion as the dog holds on to the ball. So you can measure the strength of your dog with this dog toy. 🦾
EXTRA TIP - Our toys are great for chewing to help promote dog's gum health. You can also fill it with peanut butter, a bully stick or a bit of cheese for example, that will increase the chewing practice. Don't worry, our dog toys are easy to clean (if your dog doesn't already make it). 
If Merlin has approved it, why not your paw-friend ? 
[Please understand that no dog toy is indestructible. Please supervise your dog's use of the toy and discard if damage becomes apparent.]
Quick links
Sign up to our mailing list